Brown Sugar Muffins
July 10, 2008 at 12:52 pm 5 comments
While clearing out the cupboards a couple of days ago, I realised that I had two bags of brown sugar, both only with about a third used up. It was alot of brown sugar, so I went in search of recipes which will use up the brown sugar.
I came across these Brown Sugar Muffins from Dine and Dish, and the recipe was the simplest that I've come across yet. The story that Dine and Dish wrote was excellent as well, it really put a smile on my face as I read it.
Brown Sugar Muffins (Makes 16)
1/2 cup butter, melted
1 cup brown sugar
1 egg
1 cup milk
1 tsp vanilla
2 cups flour
1 tsp baking soda
1/4 tsp salt
1/4 cup chopped nuts (I didn't add any)
Preheat oven to 190C. Grease/line 16 muffin cups.
Combine all ingredients until mixed. Fill prepared muffin cups and bake for 20 minutes or until done.
I halved the recipe to make 8, and didn't add any nuts cos I didn't have any. They took no time at all to whip up, and so I made them for breakfast. (: They were good, lightly sweet, and will go well with some cold butter or jam. I had them plain while warm.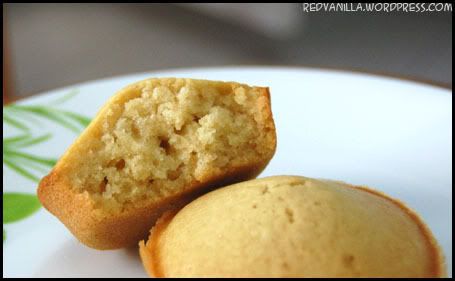 **Update:
I made them a second time, and I replaced 1/2 cup flour with 1/2 cup unsweetened cocoa (I used regular Hershey's). It made for a very moist and chocolately muffin, without being too sweet. (:
Entry filed under: Baked, Muffins/Quick Breads. Tags: .