Cherry Tomato Salad
July 12, 2008 at 7:18 pm 1 comment
While waiting for the cheesecake to bake in the oven, I got a bit peckish and fixed up a snack for myself. It's really easy to throw together, and very refreshing for the hot weather, since it's forever summer in Singapore.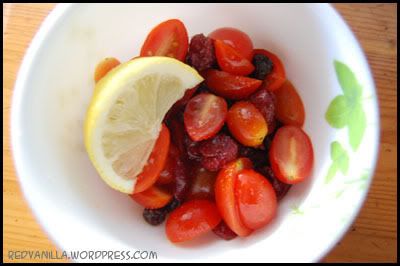 Just take a handful of sweet cherry tomatoes, slice them in half lengthwise, throw in some raisins and dried cranberries, and top it off with a sprinkle of salt and a good squeeze of fresh lemon juice.
Sweet, sour, tangy and just slightly salty. Seriously good for hot weather.